Summer Camp 2018
Language Immersion Camp at Rashkis Elementary School
Making Language Learning Fun
Ages 4 through 12
SPANISH, CHINESE, & FRENCH CAMPS
Flip4Kids offers children all the fun of a traditional summer camp in a full immersion setting. Week-long camps are available for five weeks of the summer, with each week offering exciting and fun activities. All camps incorporate a spiral review and repeated opportunities for learning the new vocabulary so children can easily transition in and out of camp without missing a beat!
Each day, children begin by reviewing the words and songs to one of the summer's interactive units. Then, it's on to the first lesson – Spanish, Chinese, or French – with lots of interactive games,hands on activities and songs that provide natural opportunities for language learning.
Learning a New Language Through Play & Song
Children remember the words that make them happy so youngsters absorb Spanish, Chinese or French naturally through language enrichment games, music, movement, arts & crafts, hands-on projects, cooking, story time, and celebration. Our camp offers fun summer camp activities with the added benefit of language learning. After a few days of camp, children forget they are learning a new language and focus only on the fun activities and new friends!
Appropriate for All Levels
Since most children are beginners, Flip4Kids summer camps feature introductory Spanish, Chinese or French activities, lessons, and games. However, many children are native speakers or have second language backgrounds. Our teachers are trained to work with students of every level so mid and advance level children can also expand their language skills.  All advanced students are given an extra time during each morning and afternoon block to focus on more advanced speaking skills.  These students will also be called on for demonstration, speaking opportunities, and be challenged to use their language skills throughout the day.
New Program for Advanced Speakers Ages 9 to 13 
This program is perfect for older students who have had a few years of Spanish under their belt.  Campers will sign a Summer's Promise contract promising to speak to both teachers and friends in Spanish only. Students will dive into fun and interactive projects requiring them to research, read, and write while enjoying Spanish music, food, and culture.  Students must be able to read and write in Spanish and be willing to commit to the Spanish only requirement.  This will be offered weeks 2, 4, and 6.
Individual Attention
At Flip4Kids, each child is allowed to respond naturally and acclimate in their own way to the new language. Our staff interacts with students as individuals so every child feels comfortable. We want each of our campers to have a fun, rewarding, learning experience!
Flexible Times for Busy Families
Flip4Kids summer camp's flexible scheduling accommodates family vacations and work schedules by providing morning, afternoon or full day camps 2, 3, or 5 days a week! Your child may attend as many weeks of camp as you like and the weeks do not need to be consecutive. Parents can choose from Half-Day AM Camps from 9am – 12pm, Half-Day PM camps from 12:30pm – 3:30pm, or Full-Day Camps from 9am – 3:30pm. Extended care options also available.
Last chance for early registration! Register by May 1.  Bring a friend and receive a referral credit towards camp fees.
| | | |
| --- | --- | --- |
| | Dates | Theme |
| Week 1   | June 25 – June 29 | Building Around the World |
| Week 2     | July 2 – July 6 *no camp on 7/4  | Movies Around the World |
| Week 3 * | July 9 – July 13 | Food Science Around the World |
| Week 4 * | July 16 – July 20  | Makers and Inventors around the world |
| Week 5  | July 23 – July 27 | Planet Earth – Recycling Around the World |
| Week 6 * |  July 30 – Aug 3  | Games Around the World. |
 * Advanced Spanish Program available on weeks 3, 4, and 6.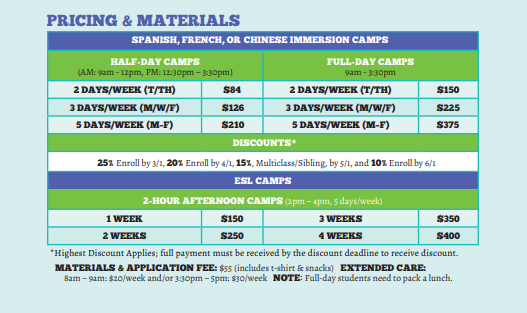 Advanced Summer's Promise Program for Advanced Spanish Speakers only will be offered Week 3, Week 4 and Week 6.  This program is for advanced to native speakers only.  Children will be required to speak in Spanish Only.


Camps are filling up! Be sure to register to get the weeks you want.
 Check out some of the fun from last year! There are more pictures and videos on our Facebook Page!